Playoff CL: Udinese 1- Arsenal 2 pic and video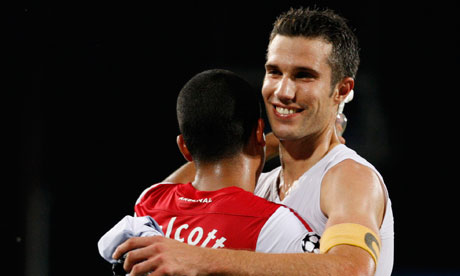 Walcott celebrated with Van Persie after match.
First of all, I would to say thanks you to all my writer, always helping and supporting. I am really appreciate what are you doing. Doesn't matter! What the amazing started from Arsenal in Europe. Traveled to Italy just to find Win! And now we win tonight. Without Nasri and Cesc, I still believes Arsene Wenger and Arsenal can alive without them ( Nasri and Cesc).
Arsenal came from a goal behind to beat Udinese 2-1 (1-0 first leg) in the second leg of their Champions League match this morning. Udinese took an early lead through Di Natale after 39 minutes to send shockwaves through the Arsenal camp. But the English Premiere League giants came back strong with Van Persie equalising and Walcott netting the winner in the 68
th
minute.
First scored by Udinese and make it tie. 1-1
Quality assisted to Van Persie
Superb Fucking Shoot by Van Persie
Thumbs Up to teammates.
Celebrating with Gervinho