Arsenal Transfer Prospects: Eight Defenders Arsene Wenger Should Target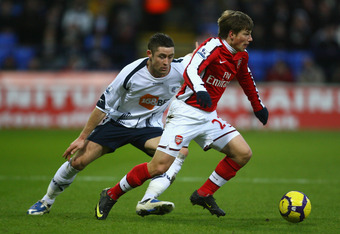 Arsenal's defense during the 2009/2010 was at times horrendous and woeful, but for the better part of the season the pairing of William Gallas and new boy Thomas Vermaelen proved impressive and strong.
However, with William Gallas's future uncertain and the likes of Mikael Silvestre's and Philippe Senderos's futures growing increasingly likely towards the prospect of departing, Wenger could find himself low on central defenders.
Fortunately, the Frenchman has youngsters at his disposal. Johan Djourou, who missed all but one encounter of Arsenal season with a serious leg injury, will return strongly. Furthermore, promising young guns Harvard Nodtveit and Kyle Bartley are both returning from impressive loan spells. The pair are probably still inexperienced and tender to really fulfil the role but will undoubtedly receive chances.
So Wenger is in need of a quality center back, something the Frenchman is no stranger to finding. A benefit is that Wenger has been granted a handy amount of cash that can land him a talented center half.

1. Gary Cahill, Bolton Wanderers
Gary Cahill has been a standout defender for Bolton for a number of seasons now and with a World Cup possibly beckoning, many clubs have become interested and are eager to have the strong defender on their roster.
Cahill has expressed eagerness to join a top four club too and with Arsenal in need of a solid centre half Cahill fits the role. The 24-year-old is blessed power and strength and is also strong when defending and attacking set pieces. The former Aston Villa defender would be a welcome addition to the Gunners.

2. Phil Jagielka, Everton
Jagielka has been a constant defensive presence, when fit, for David Moyes's Everton. Although the Englishman was a late comer, due to injury, to Everton's 2009/2010 season, Jagielka is still a defender Arsenal desperately need.
The 27-year-old is being targeted by the Gunners and Manchester United. David Moyes is of course keen to keep his England international, and it is rumored that £15million is the starting price.
But the former Sheffield United defender is as tough as they get and could form a formidable partnership with Thomas Vermaelen as the pair are similar.

3. Simon Kjaer, Palmero
The Danish giant has had a terrific season with Palmero and thanks to his performance has attracted many keen admirers. He is a strong, smart defender who would fit the bill Arsenal need.
At 21, he still has a huge future ahead of him. Furthermore, Wenger is a interested in the Dane, with rumors suggesting the Frenchman was lining up a £10 million bid for the defender.

4. Neven Subotic, Borussia Dortmund
The imposing Serbian defender has been in form for German giants Borussia Dortmund and, at 21, there is still growing space for Subotic. The doughty defender has been linked with the Gunners on a number of occasions, and the Serbian has all the traits to become a quality defender.
He is tall and imposing at 6'4" and is blessed with aggression and pace. Furthermore, he would add much needed depth to the Arsenal backline.

5. Per Mertesacker, Werder Bremen
The gigantic German defender would bring much needed height to the Arsenal side at 6'6". The German international had an impressive season with Werder Bremen, showing he could easily handle the physicality of the Premier League.

6. Leonardo Bonucci, Bari
The 23-year-old played a tremendous season with Italian side Bari, causing many giant clubs to go searching for his signature. Bonucci is fast and intelligent with good leadership credentials. The Italian has a composed, aggressive style of play that could thrive in the Premier League.

7. Philippe Mexes, AS Roma
The small yet tenacious defender was another impressive defender in the Serie A. The 28 year old would added much needed experience and leadership to the Arsenal defensive department as well as bring aggression and power. Rumours have it the Frenchman is worth around £10 million.
8. Nedum Onuoha, Manchester City
The versatile City defender has failed to really nail down a starting berth in the expensive City lineup and could be interested in a deal elsewhere. The Englishman is unlikely to cost to much for the Gunners and could prove a reliable back-up source to Djourou and Vermaelen.