Arsenal Malaysia Special:Cesc Fabregas' :Arsenal to Barcelona saga - the definitive timeline
Thursday, May 13




12:40

: Cesc Fabregas: I think I would like to go to Barcelona - whether they want me, who knows?
Arsenal captain states in a question-and-answer session in Spain that should he leave the Gunners then it would be for Barcelona, uttering the ominous words, "I think I would like to go to Barcelona."



Friday, May 14




09:25

: Fabregas: My future needs to be resolved before World Cup
Fabregas insisted that he would like to have his future settled before the 2010 World Cup.



Saturday, May 15




10:32

: Xavi: I'd love Cesc Fabregas to join us
Midfielder admitted he would "love" Fabregas to return to the Spanish giants this summer.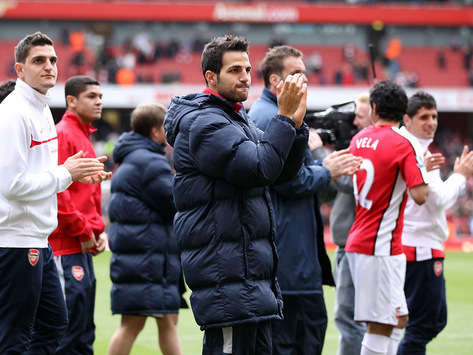 Let's talk about Cesc | Fabregas told Arsene Wenger he wanted to leave




Tuesday, May 18


08:27: Cesc Fabregas flew back to London but closer than ever to Barcelona switch
EXCLUSIVE: Goal.com UK revealed Fabregas was flying back to London ahead with his mind set on leaving Arsenal for Barcelona.

08:45 Barcelona officials claimed Cesc Fabregas & David Villa want to join Barca - but Arsenal insisted there had not yet been any official approach
Club officials at Barcelona declared that Arsenal captain Cesc Fabregas and Valencia striker David Villa want to sign for the Spanish champions and had confirmed that they were working towards bringing the duo to Catalunya.

14:09: Barcelona striker Zlatan Ibrahimovic mooted as make-weight in deal for Fabregas, speculate Catalan daily El Mundo Deportivo.



17:59

: Cesc Fabregas told Arsene Wenger in 'emotional' meeting that he wants to quit Arsenal for Barcelona
EXCLUSIVE: The skipper told his boss in an unexpected face-to-face meeting that he wants to quit Arsenal and rejoin Barcelona, as revealed by Goal.com UK.




Wednesday, May 19


12:10: Barca's transfers guru Txiki Begiristain hopeful that Cesc Fabregas will leave Arsenal
Technical secretary Txiki Begiristain sure that Arsenal skipper Cesc Fabregas will definitely move to Camp Nou soon.

14:48: Arsenal refuse to drop £40m price for Barcelona target Cesc Fabregas



16:59

: Arsenal still yet to receive any offer for Barcelona target Cesc Fabregas

22:09: Xavi still eager to see Cesc Fabregas at Camp Nou after admitting delight with David Villa deal
Xavi again luring Cesc to Camp Nou while also hailing the confirmed £34m signing of David Villa from Valencia.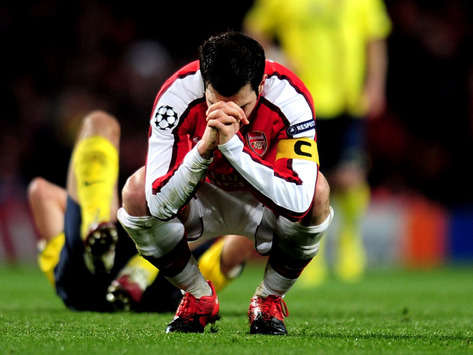 I want to go home | Cesc admitted his only destination would be Barcelona





Thursday, May 20




00:24

: Arsenal raised price that Barcelona would have to pay for star Cesc Fabregas to £80m, according to the Daily Mail.

09:16: Gerard Pique expects Cesc Fabregas to join him at Barcelona
Defender and Fab's best friend fully expects Cesc to join him at Barcelona this summer, with the Spanish champions still readying a bid for the Arsenal captain.



15:30

: Barcelona presidential candidate Sandro Rosell warns 'stratospheric debt' could scupper deal for Arsenal's Cesc Fabregas







Friday, May 21




08:00

: Arsenal chairman Peter Hill-Wood: We will 'do our damnedest' to keep Cesc Fabregas from going to 'funny business' Barcelona
EXCLUSIVE: Peter Hill-Wood declared that Arsenal will fight tooth and nail to hang on to Cesc Fabregas, and the board have not even discussed the fee needed to prise their talismanic skipper from Emirates Stadium.

10:55: Barcelona star Xavi: Cesc Fabregas has no choice but to leave Arsenal
Third statement in a week from Barca vice-captain - who plays midfield role similar to Cesc - as he leads the rallying cry from Catalunya.

13:30: Barcelona prepared to send Alexander Hleb back to Arsenal as part of Cesc Fabregas deal, claimed the Daily Mail.



18:42:

Txiki confirms Barcelona have made an approach for Fabregas, but have not yet heard back from Arsenal
At David Villa's unveiling and press conference, the technical secretary revealed that Barca have finally made the first move by asking Arsenal if they are willing to open negotiations for the sale of Cesc Fabregas



Sunday, May 23


10:54: Arsenal manager Arsene Wenger failed in his plea to keep captain Cesc Fabregas, claimed the News of the World.



Monday, May 24


08:11: Spanish FA's relaxed stance on transfer talks ahead of World Cup will aid Barcelona's pursuit of Arsenal skipper Cesc Fabregas, reckons the Daily Mail.

12:40: Barcelona to fax through £30m offer for Cesc Fabregas to Arsenal today
EXCLUSIVE: Barcelona are preparing to make their first official approach to Arsenal to sign Cesc Fabregas by faxing through an offer in the region of £30 million