Jika minggu ini pasukan lelaki tidak mempunyai perlawanan.. Apa salahnya jika fan-fan Arsenal menyokong pasukan Arsenal Ladies yang akan menanti kunjungan PAOK pada pukul 10 malam nanti di mana Arsenal Ladies telah pun membelasah mereka 9-0 minggu lalu.. Dan untuk berita terkini Arsenal Ladies sila ke blog
Arsenal Ladies Malaysia
..
Walcott yang dipanggil skuad England U-21 minggu ini mendedahkan yang Henry menandatangani jersi TW14nya semasa kunjungan mengejut Henry ke Emirates Stadium.. "Ianya menyeronokkan untuk melihatnya hari ini.."
"Apabila hero anda datang dan lihat perlawanan tersebut.. Dan anda memakai jersi bernombor 14 ianya perasaan yang hebat.. Saya dapatkan dia untuk menandatangani jersi 'Walcott 14' dan saya akan letakkan di dinding dan disebelah jersi yang dia tandatangan untuk saya pada kali pertama saya sertai Arsenal.."
Mannone pula mendedahkan yang dia hampir sahaja dipinjamkan ke kelab Championship sebelum kecederaan Fabianski membuka pintunya.. "In the summer, yes, we had a talk about a loan move.."
"The boss was quite happy for me to go somewhere and play, because as you can see now, I was ready to play games.. Now things have changed, it's a different situation, but in the summer I was looking forward to a loan move, to get some experience.."
But if you play five games in the Arsenal first team, that's equivalent to the experience of about three months in the Championship.. A couple of teams were lined up, but then Lukasz got injured and they told me to stay.. It's funny how things happen in football.."
Mannone juga menceritakan bagaimana dia meraikan kejayaannya selepas menentang Fulham.. "I just went with my family and shared the happiness with them.. I watched the game again on TV that night, with my family, and we were all very happy.. Really it's difficult to explain what's happening around me at the moment – it's been crazy for the last few days so I'm just keeping my feet on the floor and work hard in training.."
"When I got back into the dressing room [after the Fulham game], all the players chanted my name.. I was very happy.. The best thing is when your team-mates are pleased and proud of you.. One of the most important things for a goalkeeper is for the team to have confidence in you.."
"If you do the right thing it's important for them as well because they are nice and relaxed, they know I am there.. I can sort out some problems for them and they can do the same for me.. They are calling me Gigi [Buffon, the Italian No 1].. It's a very big compliment for me. Even in training now, when I make a save - I'm not Vito anymore!"
Ya Atikah setuju dengan mereka semua.. Mannone ialah Buffon Arsenal!! Atikah yakin jika Mannone terus beraksi sebegini dan terus konsisten tidak mustahil jika Mannone akan menjadi penjaga gol terhebat dunia.. Tapi Atikah hairan kenapa skuad Itali atau U-21 mereka x panggil Mannone untuk perlawanan minggu ini?? Hmmm....
Sementara itu Atikah yang masih di North London mendapat panggilan dari Adebayor.. Pada mulanya Atikah menolak untuk bercakap dengannya.. Namun Atikah menyedari ada sesuatu yang mahu dikatakan Adebayor.. Atikah dengan berat hatinya meminta dia mengatakannya..
Adebayor mengatakan yang dia menyesal memijak muka Van Persie.. Dan memberitahu yang keputusannya meninggalkan Arsenal ialah kerana Wenger memintanya melakukan sedemikian kerana Arsenal berdepan kesukaran untuk membayar gajinya..
Atikah harap Adebayor betul-betul maksudkannya.. Kerana fan Arsenal jelas masih belum mampu memaafkannya terutama sekali semasa meraikan golnya pada perlawanan menentang Arsenal tempoh hari.. Tapi ini bukan bermakna Atikah mempercayainya..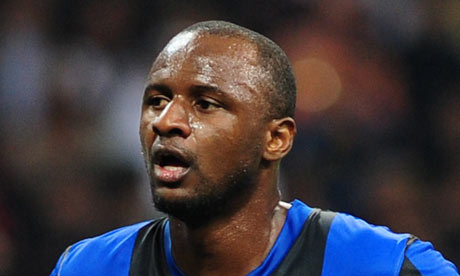 Sementara itu khabar angin tentang penghijrahan Vieira ke Chelsea semakin menjadi-jadi.. Lebih-lebih lagi apabila Vieira manyaksikan perlawanan Chelsea menentang Liverpool tempoh hari berbanding menyertai Henry di Emirates Stadium.. Atikah harap sangat Vieira tidak akan ke Chelsea.. Kalau benarlah dia masih menyayangi Arsenal..
Sementara itu Sol Campbell sekarang ini dalam proses untuk berbincang dengan Wenger tentang kemungkinan kehadirannya semula dalam kem Arsenal.. Namun bukan sebagai pemain tetapi mahu kembali berlatih di bawah bimbingan Wenger sebelum kemungkinan penghijrahannya ke Arsenal.. ( Di mana Atikah menyedari yang Wenger seperti masih mahu menggunakan khidmat Campbell ).. Adios!!