Arsene hails 'collective game'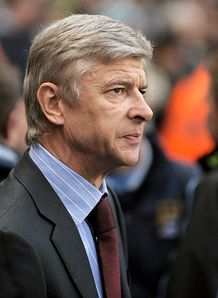 Sumber di petik dari Sky Sport
Arsene Wenger was delighted with Arsenal's overall performance as they overcame Manchester City 2-0 in the Premier League on Saturday.
Two goals from striker Emmanuel Adebayor handed the Gunners success to lift them six points above fifth-placed Aston Villa.
Adebayor was making his comeback from injury while Cesc Fabregas also returned and impressed at Emirates Stadium.
Wenger was pleased with the result as he now looks ahead to next Tuesday's UEFA Champions League game against Villarreal.
He told Sky Sports: "The team performance pleased me the most. I feel that our collective game was pleasing.
Fluent
"Defensively we were strong and offensively we were fluent. It was a good balanced performance with good team spirit. And I like that.
"It was a good Manchester City team. It was from box-to-box in the first half but in the second half we took over and could have scored more goals.
"The six-point lead (over Villa) is very important. It keeps our run going and puts a bit of distance between us and Aston Villa. That is very positive.
"I believe the team has gone from strength to strength. Now is a crucial time. We have grown and matured. We have a strong spirit and a great hunger."
Walcott
Of Adebayor and Fabregas' displays, he said: "Of course (they are key), I believe they are great players, but when the team plays well all the players look very good."
Wenger also confirmed that winger Theo Walcott should be fit for the forthcoming trip to Spain despite him having an icepack on his knee after the match.
He added: "Walcott looks alright, we will assess him tomorrow."